WILLIAM HOWARD LUTTRELL(1932 – 2017)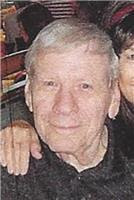 William (Bill) Luttrell, age 84, passed away on Sunday, April 23, 2017, from complications due to respiratory problems. He was born November 12, 1932 in Los Angeles, Calif. and was the youngest of five siblings, all now deceased.
Bill graduated high school in Ojai, Calif. in 1951, and enlisted in the US Marine Corps that same year. Upon his honorable discharge in 1954, he went on to earn his Bachelor of Science Degree in Engineering, and became a Civil Engineer.
His main focus of work was with the oil industry, where he worked for and eventually ran small companies that designed and built oil derricks and refineries. He had a very long career, and retired in the 90's. In 1998, he moved with his wife Bonnie to Bullhead City, Ariz. where they had maintained a vacation home since 1980.
Bill is survived by his wife of 38 years, Bonnie Luttrell; son, Dan (Cheryl) Luttrell; daughter, Karen (Bob) Hickok; four grandchidren; and ten great-grandchildren.
A memorial "Celebration of Life" ceremony was held on Wednesday, April 26, 2017 at Desert Lawn Funeral Home in Mohave Valley, AZ. The service was officiated by Pastor Gene Stouffer.